Norton's Victorian Railways Preserved
R766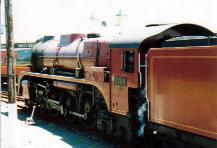 R766 sits at Traralgon after triple R's run.
Photos of R766 as preserved by
Steamrail Victoria - Newport Workshops, Vic.
Now converted to oil firing and running with
Westcoast Railways - Ballarat East, Vic.
---
Quick Links
---
R766 Sprints to Benalla on Oaklands Tour. (right)
R766 sits in Steamrail's Newport yards. (above left and below)
R766 sits at Spencer St., about to run the V-line Geelong Pass. (Below)
---
OFFICIAL TOURIST RAILWAY PAGES.
For Updated Timetables and events
and Videos.
---

This page has been visited
times.